Scrappy-Doo. ACA registered.
Scrappy-Doo is a cream, long coat, with an apple shaped head. He weighs 3 pounds 6 ounces. He is a very well socialized Chihuahua. He is around our children, and is very well mannered. I AM SELLING HIM FOR $650.00 TO A GOOD HOME ONLY. He was recently (5/2010) neutered.
Snuggling-up w/sugar,
our 21 year-old cat!
Doing his push-ups! He likes to stay in shape for the ladies.
Foxy- the big ham, squeeing in to smile!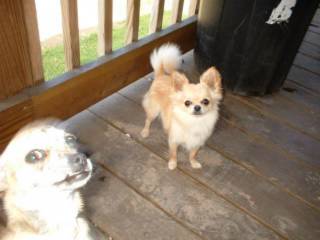 "Scrappy-Doo", male Chihuahua.


SCRAPPY-DOO, and, of course-Foxy, zipping in for a shot!